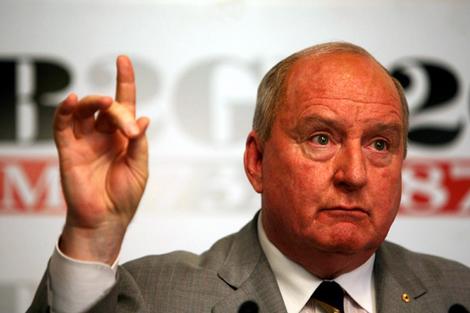 Love him or hate him Alan Jones has a wide audience and
agressively interviews David Karoly
, an IPCC lead author and one of Australia's leading warmists.Jones has done his homework ( or someone has done it for him) and Karoly , used to the easy interviews served up by our left-wing press does not know what hit him. Listen and enjoy!
Update: Predictably Jonathan Holmes of the ABC thinks David Karoly was
treated terribly
by Alan Jones.
Last Wednesday on Sydney radio station 2GB, Breakfast host Alan Jones did his first interview this year with a climate scientist who doesn't reckon that the whole thing is nonsense.
Mind you, it's stretching the term to call Alan's half-hour chat with Professor David Karoly of the University of Melbourne an interview. It was part interrogation, part harangue.
At least Karoly got on air which is more than a skeptical scientist can do on the warmist ABC.