The times are a'changing in the US with a
triple whammy
for the Warmists in recent polls . The first was the announcement that Rick Perry , an avowed climate sceptic was running for the GOP presidential nomination and he immediately shot to a healthy 11% lead over Mitt Romney in the latest poll.
Secondly the GOP has a generic 44% to 37 % lead over the Democrats which would easily give them control of both houses in 2012. And thirdly a generic GOP presidential candidate has a 6% lead over Obama in the Presidential race , all very bad news for Obama and the Democrats.
Texas Governor Rick Perry, the new face in the race for the 2012 Republican presidential nomination, has jumped to a double-digit lead over Mitt Romney and Michele Bachmann with the other announced candidates trailing even further behind.
The latest Rasmussen Reports national telephone survey of Likely Republican Primary voters, taken Monday night, finds Perry with 29% support. Romney, the former Massachusetts governor who ran unsuccessfully for the GOP presidential nomination in 2008, earns 18% of the vote, while Bachmann, the Minnesota congresswoman who won the high-profile Ames Straw Poll in Iowa on Saturday, picks up 13%
.
The Rasmussen Reports daily Presidential Tracking Poll for Tuesday shows that 19% of the nation's voters Strongly Approve of the way that Barack Obama is performing his role as president. Forty-two percent (42%) Strongly Disapprove, giving Obama a Presidential Approval Index rating of -23 (see trends).
At 19%, the number who Strongly Approve matches the lowest total yet recorded for this president. It has fallen that low only once before, on April 11 of this year. While 45% of Democrats Strongly Approve, just 4% of
Republicans and 8% of unaffiliated voters share that enthusiasm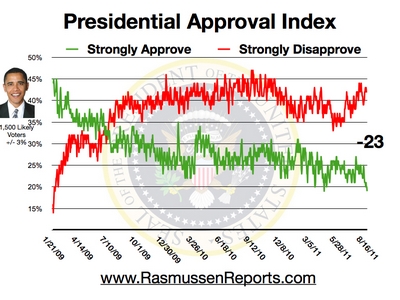 .