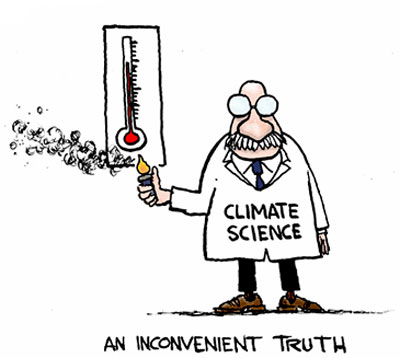 BOM Temperature Homogenisation Department
The Australian Bureau of Meteorology has
bent to pressure to publish details of changes
to historical temperature records as part of the "homogenisation" process. Following much bluster and name-calling after it was revealed the BOM could not substantiate changes to Rutherglen station where .35 degrees of cooling mysteriously morphed to 1.73 degrees of warming, the BOM has given in. It seems that the "amateurs" as they were called by David Karoly have had a big win.
For more than 2 years the BOM has resisted calls to publish details and we are about to find out why as the "amateurs" get to check the data adjustments.
From Graham Lloyd:
The Bureau of Meteorology has been forced to publish details of all changes made to historic temperature records as part of its homogenisation process to establish the nation's climate change trend.

Publication of the reasons for all data adjustments was a key recommendation of the bureau's independent peer review panel which approved the bureau's ACORN SAT methodology.

BoM posted a new site on its ACORN SAT website on Monday, two weeks after being questioned by The Australian about the transparency of its homogenisation process.

Independent researchers had been calling for publication of BoM's methodology for more than two years.

They described publication of the data as a "big win".

A spokesman for BoM said "publication of this table meets the Bureau of Meteorology response to the recommendations of the Independent Peer Review Panel".

The peer review panel commended BoM's homogenisation process but said the bureau should be more open and transparent.

It said "a list of adjustments made as a result of the process of homogenisation should be assembled and maintained and made publicly available, along with the adjusted temperature series".

"Such a list will include the rationale for each adjustment," the peer review panel said.

BoM has been under fire over changes to individual temperature records where cooling trends had been changed to warming trends.

The bureau has said changes were necessary to compensate for non-climatic factors such as a site move or change in measuring equipment or in comparison with nearby sites.

Defenders of BoM have accused detractors of cherrypicking examples to question the bureau's methodology and concentrating on "a few potential errors in the data".

BoM was unable to provide The Australian with details to substantiate their claim of a site move at Rutherglen in Victoria where the minimum temperature trend had been changed from a cooling trend of 0.35C in the raw data to 1.73C warming after homogenisation. The official station record said there had been no site move at Rutherglen.